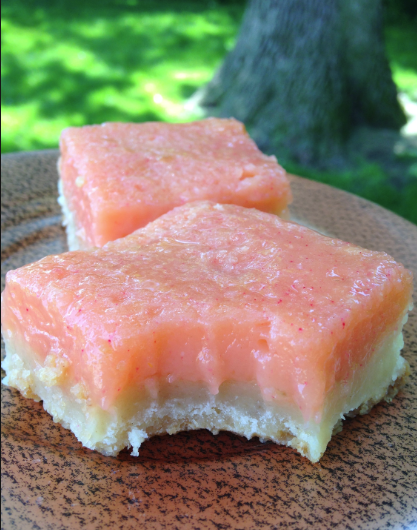 Ingredients
For the Crust:
1 cup whole wheat flour (you can also use all purpose flour)

1/4 cup brown sugar

1 stick (1/2 cup) unsalted butter, at room temperature
For the Filling:
2 eggs

zest of 1 grapefruit

1/2 cup ruby red grapefruit juice

3/4 cup sugar

squeeze of lemon

1/4 tsp baking powder

2 Tbsp all purpose flour

1 Tbsp corn starch

a drop or two of red food coloring (optional but pretty)

confectioner's sugar (for the top of the bars)
Instructions
Set the oven to 350 degrees F
Line a 9x9 baking dish with parchment paper with overlapping ends so you can remove the cooled squares for easy cutting.
In the bowl of a stand mixer, (you can also do this by hand), combine the butter, flour and sugar until there is no more dry flour feel and the mixture is uniformly crumbly. Press the crust evenly into the pan, using your fingers or the bottom of a metal measuring cup as a tamper.
Bake the crust for 15 minutes.
In the meantime, wipe out the bowl and add the filling ingredients. Beat or whisk until everything is well combined and there are no lumps.
Pour the filling onto the hot crust, and then return to the oven for another 25 minutes, or until set.
Cool completely in the refrigerator, and then dust with powdered sugar before serving.