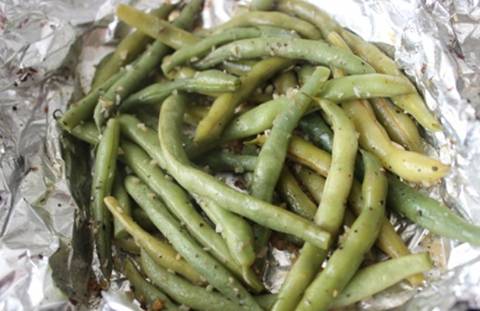 Ingredients
1 lb green beans
1 tablespoon olive oil
2 -3 garlic cloves, minced
1 teaspoon crushed red pepper flakes
salt, to taste
ground pepper, to taste
1 -2 tablespoon water
2 -3 sheets aluminum foil
Instructions

Put green beans on a sheet of aluminum foil large enough to fold and seal. You may need to fold two sheets together.
Note: I also use one sheet of foil to set the pouch on. This way if any liquid seeps out or it pulls apart it doesn't leave a mess.
Drizzle olive oil over the beans.
Add minced garlic and crushed red pepper, salt and pepper to taste.
Toss green beans with tongs until well coated.
Add water and fold aluminum foil together at the top and pinch the sides closed.
Cook green bean pouch on the grill.
Notes: When I put my main dish on the grill I open the beans and toss with tongs. If all the water is gone, add a little more, reseal and move to top rack. If I lift the grill lid to flip main dish I usually give the pouch a shake.